Friday, February 22nd, 2013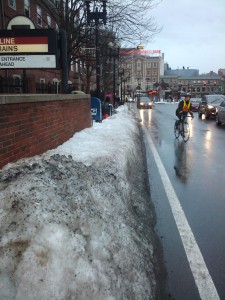 It has come to my attention, after extensive communications with the powers that be and their lackeys, that our cities have no intention of clearing the snow out of our bike lanes. They also have no intention of moving or ticketing the cars parked in the bike lanes. All this is in spite of the fact that the winter months are the harshest and most dangerous to cyclists, who are the most vulnerable of commuters year round.
However, rather than bemoan our fates, I say we do what the city should be doing and get out there ourselves and shovel out the bike lanes! If the powers that be think it's too much hassle or just don't care, then it's up to us to preserve our own safety with a little DIY action.
My plan  is this, and I hope you follow along:
We should be seeing the end of the coming precipitation by this Sunday eve. At that point I will venture forth, shovel in hand, and station myself at the nearest unplowed bike lane. I will then proceed to remove the snow from it! If I am able to complete one bike lane before my back is broken, I will move on to another and clear THAT bike lane. Where will I put the snow? Wherever! It's not my fucking problem as long as it's not in the bike lane, right?
I urge you to take up your icepicks and shovels and buckets of sand and join  me at the front line of the battle! If you have a specific commuter route you need cleared, start there! Call your friends! Bring a boombox and make a party out of it!
If you aren't a cyclist but just want to help, email me at kamikazelove at gmail and I'll point you toward a lane in need!
YOU HAVE THE RIGHT TO BE FREE OF HARASSMENT
YOU HAVE THE RIGHT TO HAVE  YOUR TAXES SPENT ON PROGRAMS THAT BENEFIT YOU!
FIGHT FOR YOUR RIGHT TO THE STREETS!