June 3rd, 2011
Ok, I'm not really gonna write poetry. I'm no Vogon.
So I lied. (You'll get used to it.) No Carpunching Gauntlets this time, but it's only because I haven't managed to trash pick or road rescue a pair of leather gloves yet. Give it time. The universe will provide.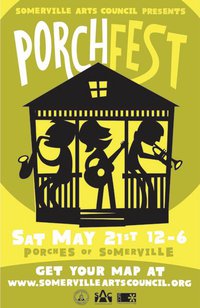 The weekend before last, The Esteemed Goondocks (mah haus) participated in the first annual Porchfest. If you ain't been told, Porchfest was a free music event showcasing artists from the area on the porches of the public. Our magnificent Count Sethula, of Goondocks Dungeons, slung delicious foods at passersby, while various and sundry bands sweated and wrought musicky havoc in the FUCKING SUN, CAN  YOU BELIEVE IT? A great time was had by all, but I completely failed to take pictures because I'm dumb like that, and because I can't be bothered to wear anything with pockets to carry a camera in while I'm in leisure mode.
Here is one picture yoinked from thesapphiresun.com: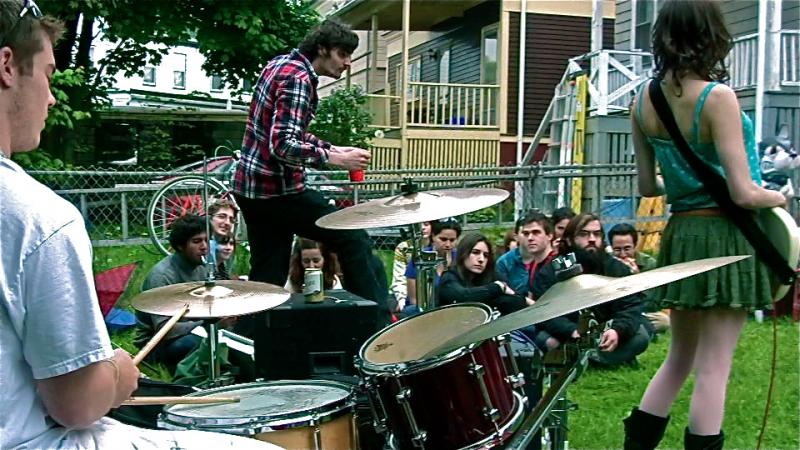 Can I just say I love my fucking neighborhood? I live in Ball Square, and prior to the 'fest my delicious roommates flyered the vicinity in preparation for causing a neighborhood ruckus. I fully expected a bit of dour buzzkill from the older folks who abut us, but nay! Everyone in the 'hood came out to play, and hung out on their porches to catch the music and the beautiful, nourishing sunshine. We were actually encouraged to repeat the affair as much as we like! I'm thinking that the future of the 'Docks may be ripe with live band house parties, at least until we're shut down and deemed an 'unlicensed club'. Bring it on.
Tags: Adventure, aggressively uncool, leisure, solidarity, Somerville, strange things afoot at the Circle K, weekends
Leave a Reply
You must be logged in to post a comment.