Tuesday, November 27th, 2012
I was hit by a car pretty bad last week. I was taking a left onto a completely empty Mass Ave from Garfield St. and was most of the way through the intersection when a woman in a big black SUV shot out of the bank driveway trying to go straight up Garfield. I ended up with a bent fork, buggered brakes and a very bruised leg. But this is where it gets interesting…
Callie (sp?), the woman who hit me, parked immediately and got out to see if I was ok. Meanwhile, a concerned woman walking by called 911. I waved them off when they came with the ambulance, but we decided to make a police report. And then Callie and I chatted and exchanged phone numbers, and she picked my bike up in her SUV and drove me to the Wheelworks on Elm. She even offered to pay for my damage.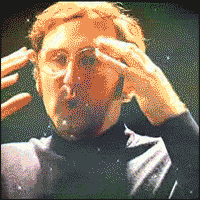 I thought I was in the fucking Twilight Zone. Callie and I chatted and joked in the car, musing that we could tell people about how we became friends – "We met by accident!"  Lol.
The one onion in the ointment that reinforced bitter reality turned out to be the reaction of the cop that came to take our statements. Stout, bitter little officer 303 took us individually to the side and listened to our description of the accident. When she then brought us together to give us her accident report spiel, she made it clear that she did not believe my side of the story. Scowling, she pointed to where I indicated that I had fallen – just at the south west corner of the intersection. "You're trying to tell me that your bike moved faster than that SUV??", she demanded.
"No, I had already entered the intersection and was mostly through it when the SUV, which had previously been parked without indicating any intention of moving, exited the bank parking lot and hit me.", I explained.
Scowling, the cop proceeded to lecture me about how I should have been more careful, and continuing to question my version of the story in the face of both the woman who hit me and the witnesses. I could only boggle at her. Why should she believe one of our stories over the other? Why would she treat the SUV driver with respect and deference and the cyclist, who had just been injured, with suspicion and hostility?
Ultimately, no-0ne was cited (Callie and I discussed the accident at length, and her attitude was a large part of why I wasn't more adamant about laying blame.) and there wasn't that much wrong with Krankenberry – nothing that the guys at Ace couldn't handle in a day.
And then today… today..
Riding home from work, I was traveling up JFK on the way into Harvard Square when another black SUV pulled abruptly into the bike lane ahead of me and then jumped into reverse to park – directly into me.  I was quick enough to swerve out of the way, and on the way I laid a slap on the SUV's flank and intoned, "Look in your mirror, Jackass."  The driver retorted with some colorful language and I went on my way… only to be pulled over right in the center of Harvard Square by a cruiser who had been a few cars behind us.
Both cops got out of the vehicle and when I asked them what was up, the first said, "You ran a red light back there."
Bullshit. I had not. The lights had been straight green until I hit the square and the last light I'd gone through was yellow. They didn't push the issue, I suppose because they knew they were fucking lying.
He then began to lecture me about how cars are dangerous and I have to be more careful (I had been in the bike lane, riding at about 12mph. How I be more careful, holmes?) and how it's my responsibility to protect myself because 'drivers are not gonna pay attention to  you, and they'll be hostile at you if you're in the road'.
Umm… then why don't you stop them, as is your job, and instruct them to be less hostile to cyclists and more observant?? Why the fuck are you stopping ME??
He then went on to tell me, 'You can't put your hands on people's property." That's funny, I replied; I've been hit and run no less than three times in Cambridge – the motorist definitely 'touching my property', and after they drove off, when I called into the police, I was asked, "What do you want us to do about it?". He stammered something about how that must have been the decision of the dispatcher, and I went on to ask about who I should speak to if I want to hold someone accountable for a hit and run even if I'm not injured. He didn't have a good answer for me, and I could tell he was getting a bit uncomfortable. He told me to be safe and sent me on my way.
Who is teaching these officers how to interact with cyclists? Because whoever they are, they're doing a pretty shit job.  If the people charged with keeping cyclists safe see us as liars,  miscreants, and essentially nuisances on the road, how can we ever hope to protect ourselves?
Even with all the work that cycling advocacy groups are doing to raise awareness and influence infrastructure, it still doesn't seem as if anyone's speaking to the police force about changing their perception of the cycling public. I try, each and every time I speak to the police, to adequately describe the hardship, persecution and neglect that we face every day, but ain't nobody got time to listen to me.